Winter is coming. The Stark's motto seems fitting to me right now.
Winter break is almost here for students everywhere, but thanks to our global pandemic, this winter break may not seem like much of a break. 
For starters, it is likely going to be to be more lonely, with fewer opportunities for entertainment, travel, and hanging out with friends.
Also, it will likely be longer than most winter breaks. Depending on your stage of life, that could be great or it could be torture.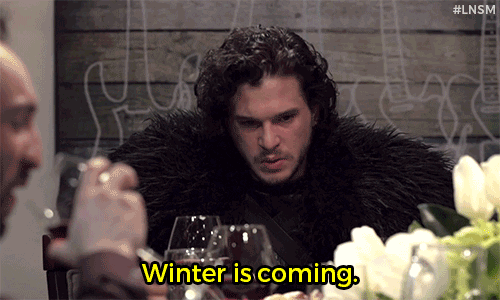 So you may have some time on your hands, and you may really, deeply, truly be looking for a way to make yourself feel better during these troubled times.
What to do? 
Here's an idea. You could use this extra time over winter break to learn mindfulness, a skill that has the potential to positively transform your life.
Mindfulness is the capacity to hold your attention steadily in the present moment, letting go of worries about the future or regrets about the past. Importantly, mindfulness involves bringing an attitude of compassionate curiosity to these observations of the moment.
So mindfulness is really just non-judgmental, present-moment awareness. Simple.
Simple but not all that easy to do. It is much easier to learn if you have a good teacher and a community of other folks learning along with you.
Which is why we have organized a bunch of our Koru Mindfulness teachers to offer mindfulness classes during December and January. 
Koru classes are 4 week courses that meet for 75 minutes each week. Koru teachers are trained to offer our evidence-based curriculum to help you learn a meaningful amount of mindfulness over those 4 weeks.
Thanks to COVID, all Koru courses are online now, which means you can attend one no matter where you are. 
Even if you have already taken a Koru Basic class, it can help to take it again, or try a Koru 2.0 class.
Finding a Koru Class
There are Koru teachers at over 200 different colleges and universities world wide. So if you are enrolled as a student somewhere, see if there is a Koru teacher on your campus. If so, find out if they will be teaching a class over winter break, and sign up. 
If you are not enrolled as a student somewhere or if your school doesn't have a Koru program, no problem! A number of Koru teachers are offering classes to the public over the winter break. You can find these classes listed here. 
Why not?
I started practicing mindfulness meditation many years ago, and it transformed my life for the better, in pretty dramatic ways. This inspired me to start teaching mindfulness to the students I worked with at Duke University. Over the years I got to see hundreds of students experience the same benefits that I did when I first learned mindfulness. While mindfulness may not be the thing that works for everybody, there is a really good chance that you will feel better after a few weeks of mindfulness practice. Why not give it a try?
Looking for meaningful, paid work? Consider becoming a Koru Mindfulness Teacher! Learn More